Khao Khorata, born on 28 December 1888 in Baan Bo Chaneng in Ubon Ratchathani province in Thailand, was the fourth child in a family of seven children. Khao was a farmer. He worked hard to be wealthy, and was known as a person who was easy in social interaction. His personality was primarily characterised by honesty and generosity towards friends and family.[1]
When he reached the age of twenty, his parents arranged a marriage for him. Khao and his wife – Nang Mee – had seven children. Though he had to work hard in order to provide for his family, yet his income was just enough to provide them with the basic necessities of life. Hence, for the sake of his family's well being, he decided to go and look for a job in another province. Once he had gathered sufficient funds, he would return back home. However, when that time finally arrived, Khao found his wife sleeping with someone else.[2]
Though Khao had previously already been informed by his friends, who told him about the adulterous behavior of his wife, yet he nearly lost his self control when he heard the news. Hence, armed with a machete, he went out to confront the unlawful couple. His rage and anger took complete control over him, and so he pointed the machete at the sleeping couple. However, coincidentally, his wife's lover noticed what was going on, and saw Khao standing at a short distance with the machete in his hands. Terrified by what he saw, he immediately raised his hands and begged Khao to spare his life. The man then instantly admitted the grave mistake he had made to sleep with another man's wife. Due to the man's sincere confession, Khao suddenly changed his mind. His anger turned into compassion when he saw the anxiety in that man's eyes. When Khao saw that man's his fear of death, his anger disappeared, and he regained his sense of reality again.
So, instead of killing the man, Khao called upon all the villagers as a witness to this scandal, and let them testify against the shameless act of the couple, so that in the future no doubt could remain about this matter. In the presence of the entire village community, among them were Khao's relatives, he publicly accused his the of committing sex with his wife; the man admitted his faults, and agreed to pay a financial compensation to Khao. Khao then publicly announced that he hereby handed his wife over to her lover.[3]
Before all this happened, Khao was merely concerned about how he could achieve his worldly ambitions. But because of the martital unfaithfulness of his wife, Khao was inspired to contemplate the Dhamma. Soon after that he understood that there are many hidden dangers in the life of a householder. And so he realized that his worldly dreams and wishes would only cause him to suffer even more in the future. This insight, of course, upset him so much until it became almost unbearable for him to carry on living this way. After a while he had lost the will to live, for he could not find any motivation to get his worldly life back on track.
Eventually Khao decided to renounce his worldly life in order to put an end to all his suffering. The Dhamma made him realize that there is in fact a way out of this suffering. Thus, Khao put all his trust and faith in the teachings of the Buddha, and went forth as a member of the saṅgha[5] to put the Dhamma in to practice. Through his dilligent practice, he found that the Buddha's teachings are true in the sense that there is indeed a way to transcend beyond samsara, which leads to final liberation from suffering.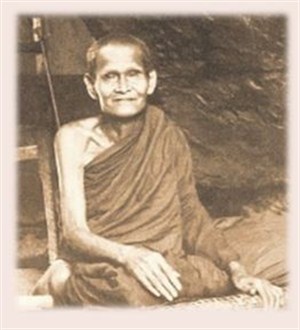 ---
[1] Ven. Ācariya Mahā Boowa Nanasampanno: 'Venerable Ajaan Khao Analayo: a True Spiritual Warrior', p. 11.
[2] Ven. Ācariya Mahā Boowa Nanasampanno: 'Venerable Ajaan Khao Analayo: a True Spiritual Warrior', p. 16.
[3] Ven. Ācariya Mahā Boowa Nanasampanno: 'Venerable Ajaan Khao Analayo: a True Spiritual Warrior', p. 17.
[4] Saṅgha: the monastic community of Buddhist monks.